The lei is symbol of Hawaii - the giving and receiving of the lei expresses love, friendship, and all that Aloha can mean.  This site focuses on the art of haku lei making.  
Haku means braiding or plaiting a lei.  One method uses softened ti-leaves to braid flowers and greens together, leaving a flat ti-leaf braid in the back.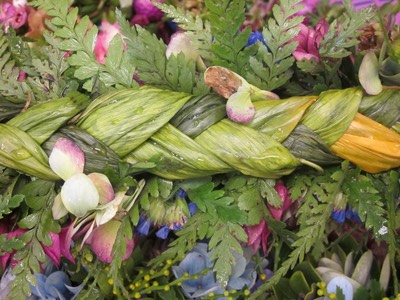 Most haku lei are Wili lei, using a winding method to secure flowers and greens into a lei.  While the harvesting/gathering of materials and supplies are the same no matter which way you weave your lei, the tutorial included is for the Wili lei process.
Things good to know...
How long does the finished lei last?  Like all flowers, any lei is perishable.  It is recommended that you lightly spritz the lei with water - do not soak the lei, and wrap it in a slightly dampened paper towel.  You can then store it in a Ziplock bag or some sort of plastic container (so it doesn't get crushed) in your refrigerator.  The lei can last about a week after it is made when taken care of properly.  Depending on the hardiness of the materials used in the lei - some will last longer than others, and vice versa.
Can a haku lei be taken to the mainland?  Yes,  however, you should avoid any seeds/pods in your lei.  When in doubt, refer to the United States Department of Agriculture bulletin:  https://www.aphis.usda.gov/publications/plant_health/2012/lei_of_the_land.pdf
If taking  any lei to the mainland for celebrations, check the temperature of the refrigerators in the hotel rooms so that you don't freeze the precious lei.
Of note:  Rapid 'Ohia Death is a mysterious disease killing the native 'Ohia Lehua plants on the Big Island of Hawaii.  Quarantine rules prohibit the traveling in, working in, or harvesting/transporting 'Ohia to stop the spread of this disease.  Prudent use of 'Ohia Lehua at this time is warranted.
Any other questions?  We will try to answer them at:  haku808hawaii@gmail.com
Enjoy the photo gallery.  Double click on each topic - you will find a tutorial on how to make a Wili lei, photos of materials you can use, photos of people celebrating with a haku lei, the friends of the haku ohana, and photos of haku lei made over the years.